The Akyease District Mission House in the Sunyani Area of The Church of Pentecost has been dedicated to the glory of God. It was constructed at the cost of GH¢ 165,079.00.
The Sunyani Area Head, Apostle Mark Obeng Andoh, who dedicated the manse on May 11, 2021, commended the District Minister, Pastor Gabriel Adjei, the immediate past Minister, Pastor Peter Adjei, and the entire members for the good work done.
The district was carved from the Duayaw Nkwanta District in 2012, with Pastor Peter Adjei as the first district minister. The sod-cutting ceremony to begin the construction of the building was performed by the former Area Head, Apostle Kingsford Kyei Mensah (now retired) on February 23, 2013, while the foundation stone laying ceremony was performed by Apostle Mark Obeng Andoh on July 27, 2016.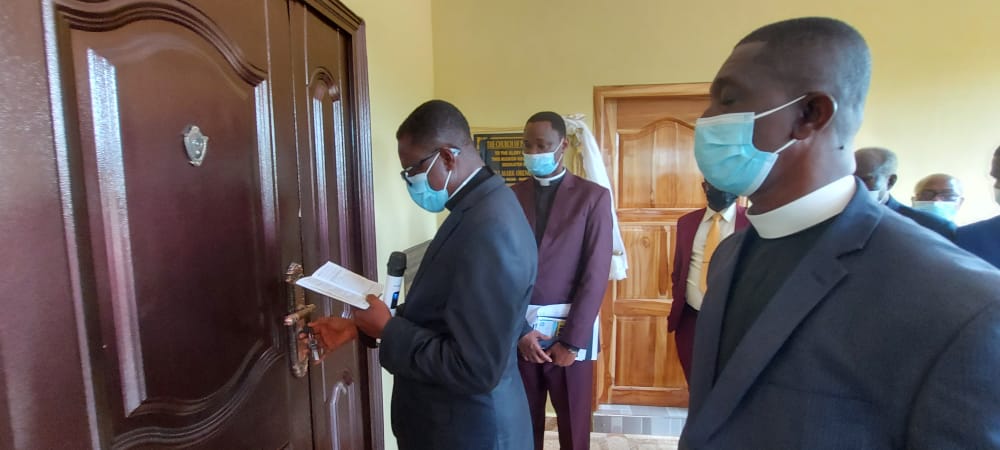 In a brief sermon on the theme, "God Bless Our Homes" based on 2 Samuel 7:18, 27 and 29, Pastor Daniel Ameyaw (Area Secretary), said that King David praised the Lord when he proclaimed the grace and mercy of God upon his life. He added that when David wanted to build a temple for God, even though the Lord refused him, he assembled the building materials for his son Solomon to undertake the project for God.
According to Pastor Ameyaw, the building of the temple was an indication that the Lord wanted to dwell among His people, firmly establish the house of David, and bless his home.
He concluded by saying that for Christians to attract the blessings of God, they must love righteousness and refrain from sin, avoid complaining, and rather testify the blessings of God by preaching the gospel of Jesus Christ to the unrepented souls.
In attendance were Mrs. Juliet Obeng Andoh (the wife of the Area Head), Pastor Silas Boateng (Rtd), Akyease Local Council of Churches and GPCC Ministers, and the Sunyani Area pastorate.
Report by Pastor Joseph Awotwe.