To become an effective and significant ministry to passionately reach Men for Christ in partnership with the church
A total Christian Man who is committed, spirit-filled and strong in Christ character to positively impact the family, the church and the community.
PENTECOST MEN'S MINISTRY (PEMEM)
The Pentecost Men's Ministry (PEMEM) caters for the interest of all the men in the Church.
The Men's Ministry organises seminars, workshops, lectures and symposia on all aspects of life including: Marriage enrichment, husbands' responsibilities at home, child care and education; business management and techniques; leadership and responsibility in the Church and the State; current affairs at both national and international levels; the teaching of basic principles of domestic law and other specialized men-related ministries.
Apostle Vincent Anane Denteh is the current Director of the Men's Ministry. His deputy is Elder Ebenezer Acheampong.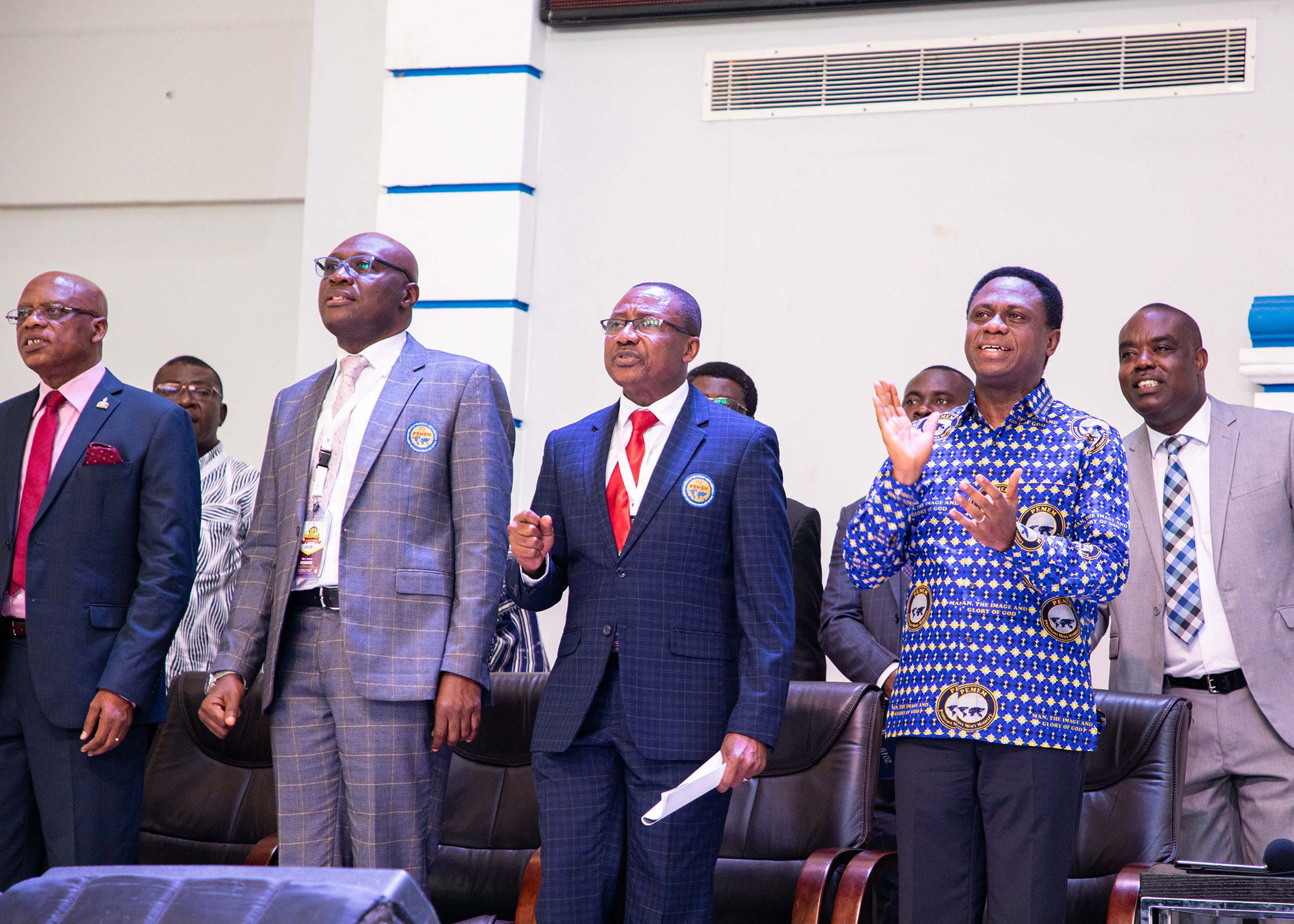 THE FIVE-FOLD MINISTRY FRAMEWORK OF PEMEM
Spiritual Life:
We seek to encourage growth in knowledge and intimate relationship with God through intentional spiritual discipleship.
To bring about a greater measure of unity and spirit of harmony in the body of Christ, where members are united in a common effort for the good of the entire body.
Family Life: To provide a basis for a healthy fellowship among all the men in the Church by creating a ministry that is not in competition with any other ministry but cooperating with all, inspiring its members to be active and responsible, at home, in the local church and in the community. We aim at becoming positive icons in society
Ministry Life:
To become passionate ministers of Jesus' movement under the power of the Holy Spirit. (Effectiveness and Impact on Life).
To witness to the presence and the power of God in the world today through the message of the Gospel for the total man, and by this, reach men (and women) for Christ, especially those having a similar social, cultural or business interest as the witness.
Professional Life:
Modeling Christ-likeness in Humility, Wisdom, Growth, Integrity, and development in the workplace.
Exercising cutting-edge professionalism in the spirit of excellence devoid of mediocrity and apathy.
Educational Life:
In most cultures of the world, men are perceived to the repositories of knowledge and wisdom. This perception must be translated into reality, by ensuring that men become studious and approach issues with acuity and precision; and by extension encourage the younger generation to be studious.

Apostle Vincent Anane Denteh
Director
Apostle Vincent Anane Denteh obtained a City & Guilds certificate in Block Laying and Concreting from Tamale Polytechnic. He was a former missionary of The Church of Pentecost (CoP) in Ukraine and the Republic of Madagascar, respectively. He is currently the Area Head for Sefwi Bekwai and the secretary of Western Regional Coordinating Council. While serving in Madagascar, he served as the Coordinator of the Southern African Regional Coordinating Council (SADC-RCC) of the Church. Apostle Anane Denteh holds a Certificate in Theological and Pastoral Studies from the Pentecost Bible College, Diploma in Freelance Journalism (Cleland Thom Journalism Training Services, Chichester, UK), Bachelor of Ministry – Christian Journalism, Arkansas, USA), Bachelor of Theology Honours degree from South African Theological Seminary (SATS), and Master of Theology from SATS. Vincent has also undertaken several courses in publishing and magazine writing. He has authored eleven books to his credit, including several articles published in various magazines, online news portals, and journals. He is married to Martha and blessed with four children.
Elder Ebenezer Acheampong
Deputy Director
Elder Ebenezer Acheampong is a Kingdom Entrepreneur and a Procurement Consultant.
Before that, he was the Ag. Head of Procurement at the Ministry of Food and Agriculture, Procurement Consultant- in charge of World Bank Funded Projects at the same Ministry of Food and Agriculture. He has developed an extensive experience in procurement by serving as a specialist on several public projects in partnership with Development Finance Institutions like World Bank and African Development Bank, and UN- World Food Programme.
Aside from other leadership positions he has occupied, Elder Acheampong is the immediate past Presiding Elder of PIWC-Accra, Kokomlemle, and also sits on the boards of COP Chairman Education Foundation, Zeotec Limited, Biazo Realtors Limited, Pathos AiB Limited, and Pathos Agro Limited.
He is an entrepreneur who has established the following companies: Zeotec Limited, a manufacturing company; Aca-City Farms, a Commercial farm; Pathos AIB Limited, a manufacturing company; Biazo Realtors, a real estate company; Pathos Agro Limited, a Commercial farm; and AFMREC, a natural resources research firm, etc.
Elder Acheampong, who worships at the Pentecost International Worship Centre (PIWC) Kokomlemle, is the Assistant PEMEM Leader for the La Area as well as the National Secretary and Greater-Accra Chairman for The Church of Pentecost (COP) Business Network.
He is also an accomplished writer with two published books. He has a BSc in General Agriculture from the University of Cape Coast and an M.Sc. in Socio-Economic of Rural Development from the University of Gottingen, Germany. He also has a lot of certificates for training undergone in public procurement.
Elder Acheampong is married to Abena Konadu Acheampong and has been blessed with four children. Two girls and two boys.