The Pentecost Men's Ministry (PEMEM) of Sunyani Pentecost International Worship Centre (PIWC – Sunyani), has donated a set of musical instruments and a public address (PA) system worth GH¢15,000.00 to the Church in Morovia, Liberia.
The items included a Keyboard with a stand, Bass Guitar, Bass Combo, Mixer Board, 2 pieces of Speakers, a set of Drums, 2 Cordless Microphones, and an Extention Board.
The PEMEM Director, Apostle Emmanuel Ofei Ankra-Badu, led the PIWC-Sunyani Assistant PEMEM Leader, Elder Kwame Boakye, and Probationary Overseer Stephen Danso, to present the items to the International Missions Director (IMD), Apostle Emmanuel Gyesi-Addo, at the Headquarters in Accra on Thursday, September 24, 2020.
Receiving the items, Apostle Gyesi-Addo, who was impressed with the donation, thanked the Resident Minister, Pastor Samuel Asare, the District PEMEM leadership, and the entire church for the kind gesture which, he said, will go a long way to support the church in Liberia.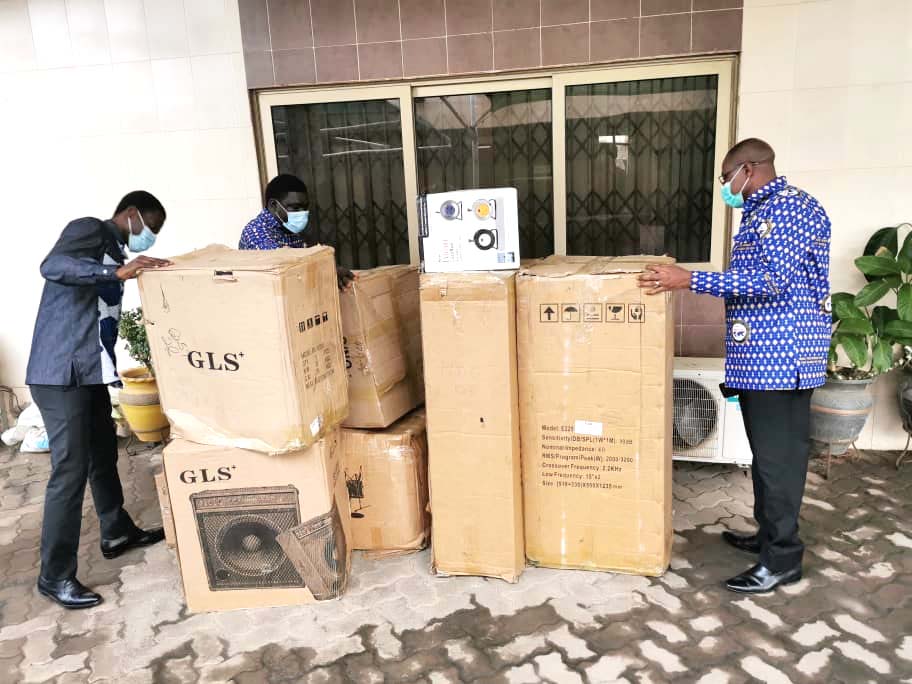 Elder Kwame Boakye indicated that the donation formed part of the activities to climax the PEMEM weeklong national celebrations.
According to Elder Boakye, the District PEMEM Leader, Elder George Oppong Danquah, visited the FD Walker Assembly of the Church at Clara Town Bushroad in Liberia whilst on official duty to the country. He said that Elder Danquah, who was touched by the plight of the assembly in their effort to acquire gadgets for evangelism, informed his district minister, Pastor Samuel Asare. He said that PEMEM gladly and generously accepted the responsibility to acquire the instruments and the other essential items for the Church in Liberia.
On behalf of his District Leader, Elder Boakye expressed the ministry's profound gratitude to God for enabling them to be used to support missions. He was also grateful to the Sunyani Area Head, Apostle Mark Obeng Andoh, the Area PEMEM Leader, Pastor Samuel Yador Beble, the Resident Minister, Pastor Samuel Asare, and all the men in the district who gave graciously to support this worthy cause.
Present at the presentation ceremony were the Personal Assistant to the IMD, Pastor Gideon Kofi Boadu-Yirenkyi, the Principal Executive Assistant to the IMD, Mrs. Victoria Kumi-Woode, and the National PEMEM Secretary, Elder Stephen Teye Djaba.
PENTECOST NEWS.