The Ekutuase District in the Cape Coast Area of The Church of Pentecost has dedicated a 3-bedroom Mission House with en-suite facilities.
The dedication ceremony, which took place on Friday, October 30, 2020, at Ekutuase, was officiated by the Cape Coast Area Head and an Executive Council Member of the Church, Apostle Samuel Yaw Antwi. 
Speaking on the theme, "A Glorious Church, God's Instrument to Possess the Nations," Pastor Boakye Anto stated: "Christ purchased us with His own blood and by that, He has made us vessels of honour that He will use to possess the nations for Himself."
He added: "As Christians, we are the salt and light of the world, therefore, we need to demonstrate our worth in all spheres of lives so we can be good examples to the society in which we live in. This will help bring others to the saving knowledge of Christ, and also transform society for the best."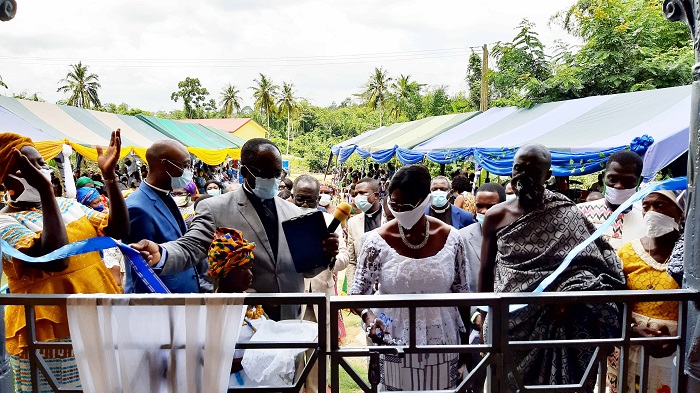 He concluded his message by saying, "If we walk in the knowledge of this truth, we will indeed be able to possess the nations for Christ."
In his remarks, Apostle S. Y. Antwi praised the Ekutuase District Minister, Overseer Gideon Atigya, and the entire members for the successful completion of the Mission House. He admonished the members to pursue peace in the upcoming elections.
He called on them to continue to observe all the Covid-19 protocols as outlined by the government and the Church.
The dedication ceremony was attended by the wife of the Area Head, Mrs. Margaret Serwaa Antwi, the pastorate in Cape Coast Area, traditional leaders of Ekutuase, among others.
PENTECOST NEWS