The Children's Ministry Directorate of The Church of Pentecost (CoP) today [September 29, 2021] took delivery of 1000 copies of Easy-to-Read illustrated Bibles from the leadership of the Church's Headquarters Staff in support of the ministry's One-Child-One-Bible project.
The donation also came with 1000 instructional manuals for teachers to help them equip children in the use of the Bibles. In addition to the items, the President of the Staff Representative body, Elder Daniel Tetteh, personally donated five copies of Good News Bibles to the ministry. 
The Bibles were sponsored by the Bible League Ghana at the request of the Staff Body through Elder Yaw Arjarquah of Pent TV.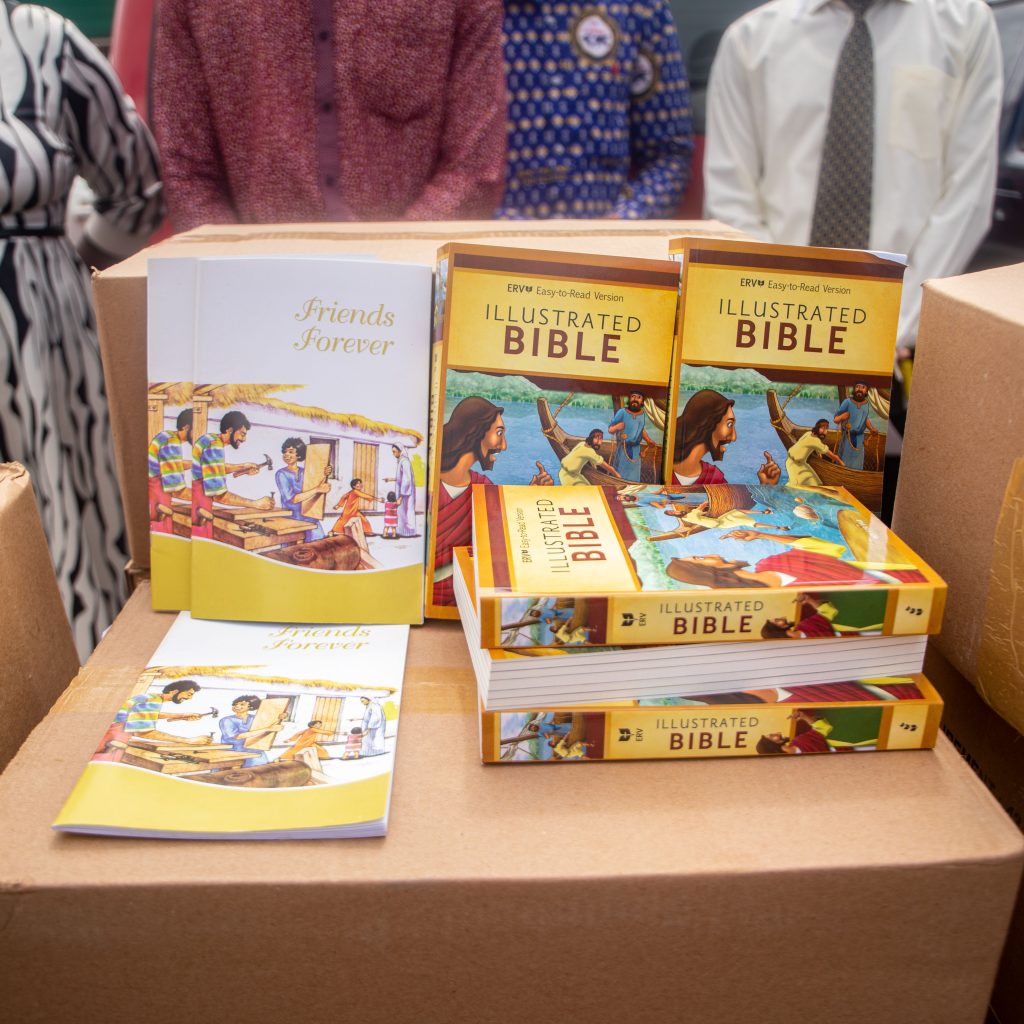 A delegation led by Elder Tetteh handed over the items to the directorate at a short presentation ceremony at the premises of The CoP Headquarters at La in Accra. The event was witnessed by Apostle Lawrence Otu-Nyarko (Finance and Administration Director, CoP Headquarters) and Elder Samuel Mantey (Human Resource Manager, CoP Headquarters).
Presenting the items, Elder Tetteh said that the donation was in fulfilment of a pledge made to the ministry some time ago. He was hopeful that the donation would aid the ministry's quest to raise godly children to possess the nations and build tomorrow's Church today.
Receiving the items on behalf of the Children's Ministry, the Children's Director of the Church, Pastor Prof. William Otoo Ellis, thanked the staff body and its leadership for the noble gesture.
"The word of God says, when you receive a child, you receive Christ, so just as you are giving Bibles to children, you are also giving Christ to them," he said.
In a brief remark at the event, Apostle Otu-Nyarko encouraged the ministry to ensure that the items achieve their intended purpose.
"Receiving gifts are good, but receiving Bibles are excellent. We are, therefore, appealing to church leaders and the Children Ministry leaders at all levels of the Church to ensure that the Bibles get to the children," he said.
He also added that children who are presented copies of the Bibles should be advised not to keep them as 'trophies' but read them because the 'entrance of the Word gives life.'
Some members of the Staff leadership who were present at the ceremony were Mrs. Hannah Antwi-Boasiako (Assistant Secretary), Elder Samuel Aidoo (Organiser) and Elder William Akuamoah (Welfare Committee Chairman).
The One-Child-One-Bible project is an initiative of the Children's Ministry which aims at making the word of God (the Bible) accessible to all children in the Church. The project seeks to raise at least one million copies of Bibles for children, especially those in remote parts of the country.
PENTECOST NEWS