The Teshie-Nungua Area Women's Ministry has held a prayer meeting at the Agnes Boahemaa Gyimah Memorial Temple at Nungua, Accra, on Wednesday, April 21, 2021.
The participants, mainly executives of the ministry from the local, district, and Area levels, as well as all deaconesses and wives of officers, were drawn from the 26 districts of the Area.
Speaking on the topic, "Commitment" the wife of the Coco Beach District Minister of the church, Mrs. Felicia Broohm, encouraged the women to develop a deep love and commitment towards the work of the ministry and the church at large.
Using the story of Ruth in the book of Ruth 1:16-17, she urged women leaders to develop the commitment that Ruth had towards her mother-in-law Naomi which made her follow her irrespective of what the outcome may be.
"We should be ready to be committed to the Lord in all circumstances whether we get our problems solved or not," she said, adding, "Ruth was ready to follow Naomi even if it meant she would not marry again."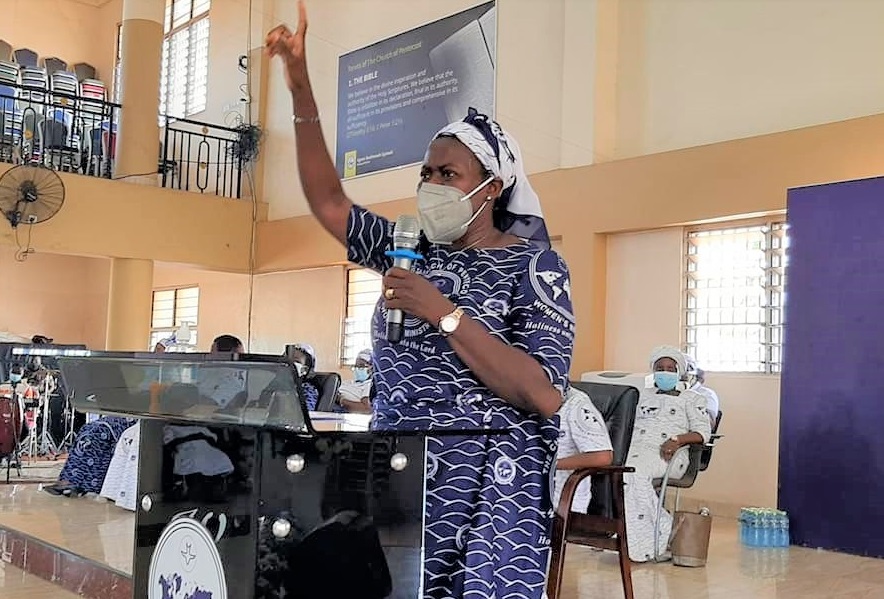 She observed that sometimes when ministry leaders are changed, people get hurt and change their attitude; "Outgoing women leaders should not attempt to sabotage the work of incoming executives or sit aloof as if they are not concerned about what is happening in the ministry," she said.
She urged deaconesses, officers' wives, and ministry leaders to adopt a serving spirit and not to relegate service at the house of God to the background. As women leaders, it is our duty to clean the churches and make sure that people are comfortable in the house of God, she stated.
"These days, our deaconesses appear tired and are not participating in the cleaning services," Mrs. Broohm said, adding, "Let's try as much as possible to play our role. We must work if we want our rewards.
"When we were new on the job, we worked with all our hearts but now it appears our love has grown cold. Let us wake up to our responsibilities as women leaders and support the church for greater growth."
Mrs. Broohm further admonished them to desist from showing church members the way to prayer centres where they believe they can get quick solutions to their physical and spiritual problems, but rather lead them to the church.
"How can you leave our great God and pursue others for solutions? God is in our churches and is ready to solve our problems, we only have to keep on fasting and praying," she said.
The prayer meeting was organised by the leadership of the Area Women's Ministry.
The Area Women's Leader, Deaconess Sophia Nana Arthur, was grateful to the women for participating in the prayers in their numbers.
Report by Isabella Gyau Orhin.