The James McKeown Worship Centre (JMWC) at Korle Gonno in the Dansoman Area of The Church of Pentecost has inaugurated a Ga assembly and ordained 27 new officers of the church. The ordained officers comprised seven elders, 10 deacons and 10 deaconesses.
The service, which was officiated by the Area Head, Prophet Ebenezer Kofi Appiah, took place on Sunday, 25th April, 2021, during the climax of the church's week-long revival with the Area Head dubbed "Prophetic Encounter with the Area Head."
Opening the ceremony, the Resident Minister of the church, Overseer (Dr.) Perez Sepenu, stated that the vision for opening the Ga assembly is to build an assembly that is culturally relevant and to meet the spiritual, physical, social, and the psychological needs of the indigenous Ga population within the catchment area.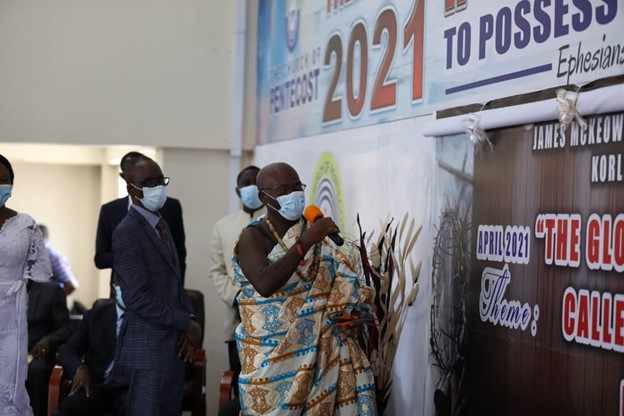 This, he said, is in line with the overarching vision of the church which is to become a global Pentecostal Church that is culturally relevant through vibrant evangelism, strategic church planting, discipleship, and holistic ministry.
Speaking on the topic, "Getting Connected to a Glorious Church" based on Acts 2: 41 – 47, Prophet Ebenezer Kofi Appiah encouraged members to always stay connected to Christ and the Church.
According to him, to be connected to a glorious church, the individual must strive to always stay connected to the Holy Spirit. Additionally, the individual must always come to the house of God with joy.
Outdooring the name of the new assembly called "Anunyam Ga Asafo" to wit "The Glorious Ga Assembly," the Area Head prayed for the Presiding Elder, Isaac Quaye, and his presbytery, as well as the chiefs and people of Korle Gonno.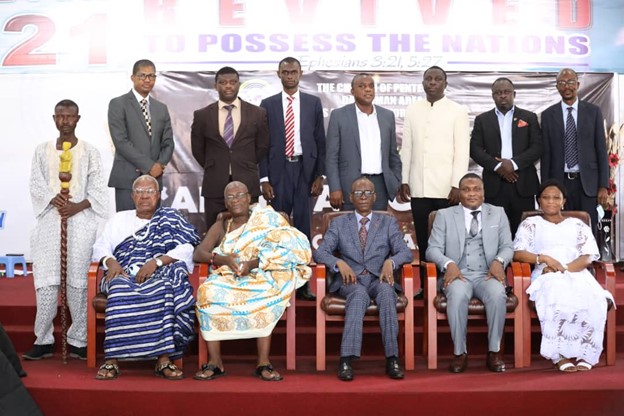 The Chief of Korle Gonno, Nii Tackie Owuowu IV, was full of joy and praise to the leadership of the church for establishing a new assembly dedicated to the Ga community. He promised to join the new assembly.
In attendance were Dr. (Mrs.) Naa Akushia Sepenu (wife of the Resident Minister), Honourable Ivan Esinam Tekpli (Assembly Member for the Korle Gonno Electoral Area who made cash and PPE donation to the church), representative of the 2020 NPP Parliamentary Candidate for the Ablekuma South Constituency, Mr Bernard Brown who made a cash donation to the church and also promised to fellowship with the Ga Assembly, the Development Chief of Korle Gonno, among others.
Report by JMWC Media Team.