The Asesewa Sisi and Akrusu Yiti Community Based Church Buildings (CBCBs) in the Asesewa District of the Agormanya Area of The Church of Pentecost have been dedicated. The buildings were dedicated by the Area Head, Apostle James Gabriel Quardson. He was assisted by the Asesewa District Minister, Pastor George Owusu.
In a sermon based on 2 Chronicles 7:14 and Nehemiah 2:17-20, the immediate past Asesewa District Minister, Pastor Emmanuel Assah-Awuku, preached on the topic: "Let us rebuild the Gates."
Expounding Nehemiah 2:17-20, he elaborated that the 'Sheep Gate' refers to Jesus Christ who laid down his life for humanity. According to him, the 'Fish Gate' also refers to soul winning, while the 'Old Gate' and the 'Valley Gate' represent humanity's old sinful nature and believers' sufferings respectively. He further mentioned the 'Fountain Gate' which, he said, symbolises the Holy Spirit whom believers should be filled us.
"As Christians, we are to build all these gates and abide by the word of God," he admonished.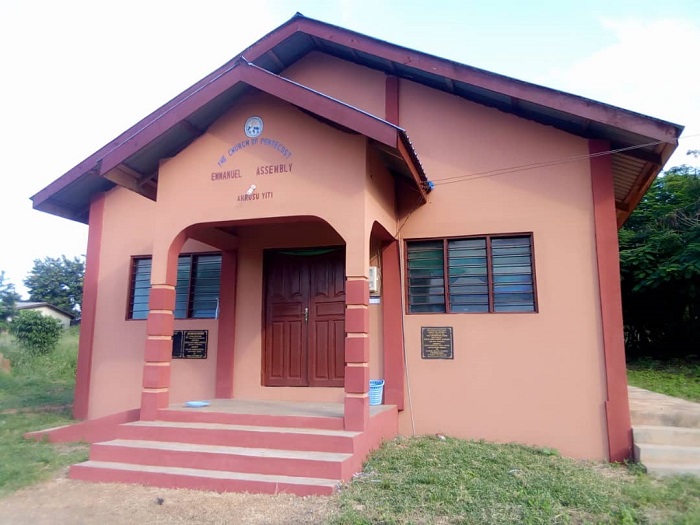 Pastor Assah-Awuku urged believers to be prayerful, studious with the word of God, and cultivate a deep relationship with God.
The Area Head, Apostle Quardson, on his part, commended the members for their commitment towards the completion of the two church buildings.
Prayers were said for the country for a peaceful general election.
Also in attendance were ministers and their wives in the Upper Krobo Zone of the Agormanya Area, Mrs. Lucy Assah-Awuku (wife of the immediate past District Minister), among others.
Report by Agormanya Area Media Team.