The Church of Pentecost has handed over a mechanised and a hand-pump borehole water facilities to two communities in the Wa West District of the Upper West Region.
The kind gesture by the Church was part of the effort to ensure access to potable water to more than 2,000 residents in the beneficiary communities, Kanguoli and Bultuo, both in the Dabo District of the Church.
The two projects were executed at a cost of GH¢26,000, with the Pentecost University providing GH¢11,000 for the drilling of the borehole at Kanguoli, while a benevolent member of the Church, Elder Ike Ampofo and his team at Maryland Assembly of the Church in the United States of America, paid for the drilling of the facility at Bultuo.
Handing over the facilities to the communities over the weekend, the Wa Area Head of the Church, Apostle Daniel Nii Tetteh Tackie, said that the church conducted a need assessment of the area and identified that the people of the two communities were in dire need of good drinking water, adding that the finding informed their decision to provide them with the boreholes.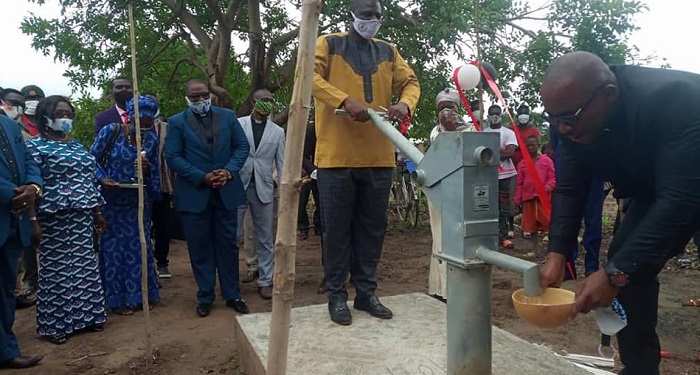 "This is part of our mission to possess the nation through the provision of social amenities. We will work to provide what is urgently needed by the people to the glory of God," he stated.
Apostle Tackie expressed that the provision of the boreholes would meet the water needs of the residents, particularly women, and reduce the number of hours they spent in search of water such that they would have adequate time to engage in productive activities.
He called on the residents to take good care of the facilities and ensure that they were maintained to make them last longer.
On his part, the District Minister of Dabo, Pastor Chris Ameyaw, expressed appreciation to the donors for providing funding for the facilities. He called on other capable persons to emulate the benevolent deeds by the Church.
In an interview, a community health nurse at the Community-Based Health Planning and Services (CHPS) at Bultuo, Madam Adisatu Maaberi, lamented that prior to the construction of the borehole for the community, the staff at the CHPS compound relied on the women in the community who travelled to distant locations to get water for the facility to run.
"With this project, there will be no need for us to chase women in the community to fetch water for the facility. Whether it rains or not, we will get potable water to perform our duties and render the needed services to residents," she said.
Meanwhile, two Community Based Church Buildings (CBCBs) for the Gomali and Ollio assemblies as well as the Dabo Central assembly funded by the Headquarters, have been dedicated to the glory of God.
Report by Lydia Fordjour & Rafia Abdul-Razak, Dabo.