Pastor Joshua Baffoe Ennin, 36-year-old young, vibrant, and enterprising minister of The Church of Pentecost who lost his life a few weeks ago was laid to rest last Saturday, March 27, 2021, at Obuasi in the Ashanti Region.
The late pastor until his untimely death which occurred on February 27, 2021, after a short illness, was the resident minister of the Obuasi branch of the Pentecost International Worship Centre (PIWC, Obuasi). He left behind a wife, Mrs. Sarah Ennin, and three young adoring daughters.
At the burial and memorial service held at the Anglogold Ashanti School Park at Obuasi, mourners, mostly ministers and members of the church, friends and loved ones, and family members could not hold back their tears as they wept in bidding him farewell.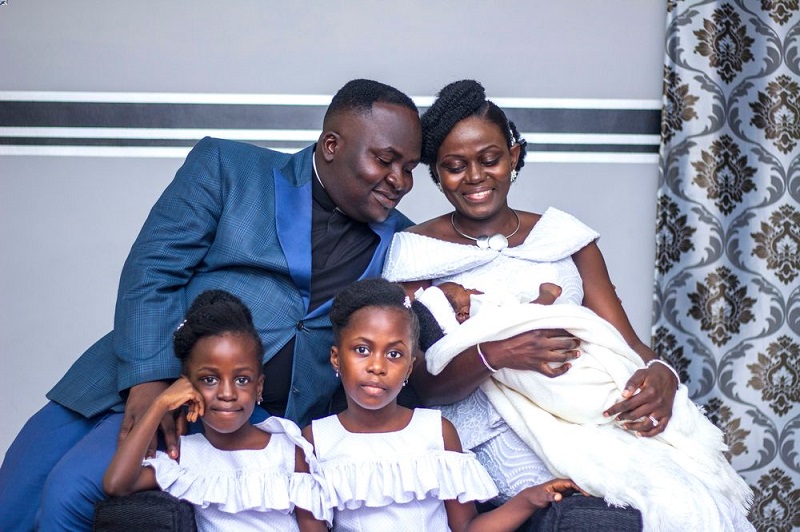 The solemn service was officiated by the International Missions Director (IMD) of the church, Apostle Emmanuel Gyesi-Addo, aptly assisted by Prophet James Osei Amaniampong (Chairman of the Ashanti Regional Coordinating Committee & Asokwa Area Head), Apostle William Boakye Agyarko (Obuasi Area Head) as well as other Area Heads in the region and from other parts of the country.
The IMD on behalf of the Chairman, Apostle Eric Nyamekye, and the Executive Council, expressed his condolences to the bereaved family for their painful loss, which, he said, has created a vacuum in the family that would be difficult to fill.
Apostle Gyesi-Addo, however, thanked God for giving Pastor Joshua Ennin as a gift to the family using him to do great work in the church within the relatively short period that he spent on earth.
According to him, it is not the number of years that one spends on earth that matters, but the impact that they make in the lives of others.
In a sermon, the Madina Area Head of the church, Apostle Martin Seth Appiah, spoke on the topic: "When the flesh appears, the voice must disappear" – Matthew 3:1-3; 11:10.
He explained that God has placed something special in the hands of every born-again believer and He expects them to work with it. He mentioned that God has also marked a specific time for every believer within which they are supposed to work and end their earthly assignment. As soon as they finish their work, he said, God whisks them away. "The death of such vibrant believers becomes very difficult for humans to understand it," he indicated.
Apostle Appiah disclosed that Prophet Isaiah who prophesied about the birth of Christ in Isaiah 9:6 also prophesied about John the Baptist, who was also called a "Voice" in Isaiah 40:3.
"Comparing Isaiah 40:3, Matthew 3:3; 11:10 and other scriptures, the common name used to refer to John was the 'Voice.' The main task for the 'Voice' was to be a forerunner of Jesus Christ, the Messiah.
According to Apostle Appiah, when John was born and attained age 30, he began his work by telling the people of Israel about the coming Messiah. So John by destiny and in God's plan was to give way when the Word becomes 'Flesh' as in John 1:1, he revealed.
"Like John the Baptist, Pastor Joshua Baffoe Ennin knew that he was to end his ministry here at Obuasi after three years just as he told his wife. His zeal for God was like John the Baptist, because he would call spade a spade, white, white and black, black. He never joked with the word of God and he preached it with all his strength at all times.
"Those who have a shorter time on earth execute their task in haste because there is a greater prize waiting for them in heaven.
"There is a mystery behind the death of Pastor Joshua Ennin. No devil or witchcraft can kill us. His work on earth has just come to an end and he must go quickly. There is another church in heaven (the triumphant church) and Joshua is needed there.
"Joshua came as a voice. The flesh has come and the voice must go and that is why he is no more," he disclosed.
Profile of Pastor Joshua Ennin
Pastor Joshua Kofi Baffoe Ennin was born on May 11, 1984, in Accra to Mr. Peter Kofi Ennin and Millicent Sey, both of blessed memory. He completed basic school in the year 2000 at Christ Mission School, Kwashieman. He then proceeded to Swedru Senior High School and studied Business and successfully completed in 2003. He became the Student Representative Council (SRC) President in his final year. He had a diploma in Special Education from the University of Education, Winneba, and a Bachelor's Degree in Business Administration (Human Resource Option) from the University of Ghana, Legon.
He had his National Service at The Church of Pentecost Headquarters and served at the office of the then Chairman, Apostle Prof. Opoku Onyinah, where he worked till his call into the full-time ministry in 2012. He started his ministerial service at Nsawora District in the Sefwi Wiawso Area, serving four years and later at PIWC-Obuasi, where he passed away after serving for four years.
Various tributes read in his honour eulogized him for being a minister, husband, father, and Christian with a difference – a man whose zeal and passion for the work of God was unparalleled.
PENTECOST NEWS.