The mortal remains of the late Pastor Richard Kofi Agyapong of Prestea-Himan District in the Bogoso Area of The Church of Pentecost were laid to rest on Saturday, March 27, 2021 after a solemn memorial service held at Himan Methodist School Park.
The event was officiated by the Chairman of the Church, Apostle Eric Nyamekye. Present to assist him were Apostles Dr. Daniel Okyere Walker (Chairman of the Western Regional Coordinating Committee & Tarkwa Area Head), Mike Etrue (Kaneshie Area Head & Executive Council Member), Onyinah Gyamfi (Bogoso Area Head), and other Area Heads in the Western and Western North Regions and ministers from various parts of the country.
Also present was the Prestea-Himan Divisional Chief, Nana Nteboah Pra IV, and his elders and other sympathisers.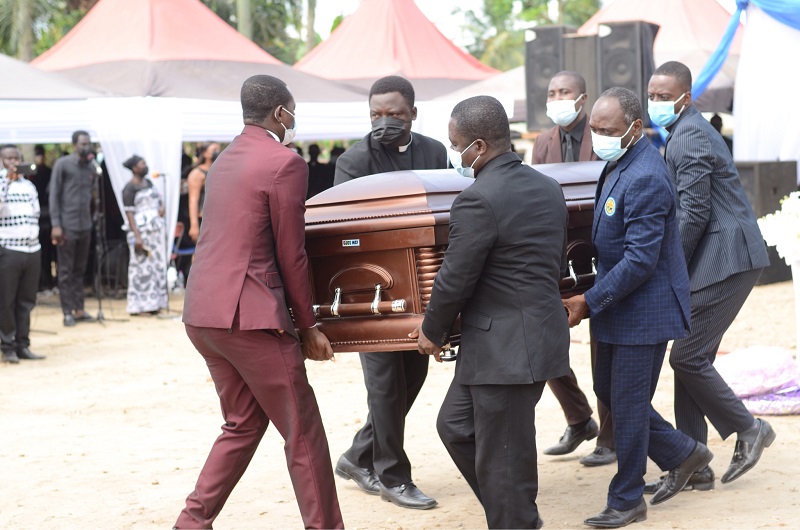 The late Pastor Agyapong, 65, whose sudden death occurred on February 5, 2021, at Prestea Government Hospital, survived by a wife, Mrs Christiana Agyapong and six adult children.
Consoling the bereaved family, the Chairman of the church, Apostle Eric Nyamekye, noted that it is better to attend a funeral than to go for a feast since death is the end of all men. He said that one of Pastor Agyapong's children has been called into the full-time minister of the church, testifying that, "if Pastor Agyapong leaves us a pastor, then he has left us a good pastor."
Delivering the sermon, Apostle Emmanuel Kwasi Osei Ofosu, Sefwi Bekwai Area Head, read from 1 Corinthians 15:21-22 and spoke on the topic, "The Dead in Christ shall live." He illustrated that death came into the world because of sin (Romans 5:12). He remarked that because Jesus Christ died for our sins and resurrected, those who die in Christ are asleep and that they will rise at the appearance of Christ. On the other hand, he stated that those who die without Christ will experience resurrection to condemnation (John 5:28-29).
Pastor Agyapong was born at Akim Oda on February 24, 1956. He began his primary education at Akim Oda Presbyterian Primary School in 1961, and continued at the Akim Oda Attafuah Continuation School, completing in 1971. He later attended City Secondary and Business, Kpehe in Accra and obtained the GCE 'O' Level Certificate in 1974. He studied Secretarial courses and had Typist Grades I, II, and Stenographer Secretary Certificates.
He worked with the Ministry of Agriculture, Cocoa Division, from 1971 to 1976, and was later transferred to Ghana Cocoa Marketing Board, Office of the Chief Executive. He worked in that office as a Stenographer Secretary from 1976 to 1981, when he retired voluntarily. He entered into business from 1981 till 1997, when he was called into the full-time ministry of The Church of Pentecost.
Pastor Agyapong served for 24 years in ministry in the following duty stations: Sefwi Asemnyinakrom, Techiman South (now Dwomor), Ashaiman North (Moneomanye), Bremang-Extension (Nkontwima) and finally, Prestea-Himan District, where he was preparing to retire in July 2021.
In her tribute, the widow, Mrs Christiana Agyapong, said that her late husband was a responsible, generous, democratic, time-conscious, welcoming, disciplined, and decent man.
The children, on their part, described their late father as responsible, loving, God-fearing, hardworking and a disciplinarian. "We wished he would have continued to motivate, guide and strengthen us a little longer but only God knows why He called him in such a time as this," they noted.
The Bogoso Area of the church indicated that the departed pastor was full of wisdom, humble, a disciplinarian who corrected with love, hardworking, teachable, punctual, selfless and faithful.
The General Council of the Church, in a tribute, noted that Pastor Agyapong distinguished himself very well as a fine and disciplined minister throughout the stations he served. "The late Pastor Richard Kofi Agyapong and his adoring wife, Mama Christiana, built a good home and through that one of their children, Overseer Samuel Amoako Agyapong is a full-time minister of the church," the tribute said.
Report by Prestea-Himan District Media Team.