The remains of the late Pastor Michael Ofori, Resident Minister of Mount Olives Worship Centre at Gbawe in the Odorkor Area of The Church of Pentecost, have been interned today [Saturday, March 27, 2021] after a pre-burial service held at the Gbawe Cluster of Schools in Accra.
Pastor Ofori, 54, was called home by his Maker on Saturday, February 13, 2021. He is survived by a wife, Mrs. Gifty Ofori and three young children.
The solemn service, officiated by the General Secretary of the Church, Apostle Alexander Nana Yaw Kumi-Larbi, was assisted by Prophet David Kankam Beditor (Chairman of the Greater Accra Regional Coordinating Committee and Ashaiman Area Head), Apostle Isaac Nii Kotei Djani (Executive Council Member and Techiman Area Head), and Apostle Patrick Aseyoro (Odorkor Area Head). Also present was the wife of the Chairman of the church, Mrs. Mary Nyamekye, ministers and members of the church, and loved ones.
Consoling the dejected widow and the bereaved family, Apostle Kumi-Larbi entreated them to be strong in the Lord since the late pastor who died in the Lord has been welcomed home by his Maker.
Conveying the sympathies of the Chairman of the Church, Apostle Eric Nyamekye, and the Executive Council to the bereaved family, the General Secretary indicated that Pastor Michael Ofori served the purpose of God on earth and is done with his earthly journey.
The Resident Minister of Pentecost International Worship Centre (PIWC)-Atomic, Apostle Samuel Obuobi, preaching the sermon at the service on the topic, "When Death Becomes A Blessing" taken from Revelation 14:13; 1 Corinthians 15:58, said that though death leaves some devastating effects such as pain, sorrow, and disappointment on surviving families, it comes with some blessings.
The first blessing that comes with death, he said, is that those who die in Christ shall rest from their labours. According to him, the earth is full of trouble, pain, rejection, sickness, and the like. However, those who serve God faithfully to the end will have rest for their souls in the next world. This, he noted, is a great blessing.
The second blessing that comes along with death is that the deeds of those who die in Christ will follow them. He stated that every good service rendered to God and humanity will not be in vain.
Apostle Samuel Obuobi however noted that those who die without knowing Christ will suffer everlasting pain and suffering.
Various tributes read in honour of the departed minister eulogized him for standing out in his service to God and humanity.
His wife described him as not only "a wonderful husband but a best friend, confidante, counselor and pastor … his ability to remain calm in the face of challenges was to be admired," adding, "He had such a great presence in our lives and my heart aches for my loss and for the children, who at such tender ages have lost a fantastic and devoted father."
The General Council of The Church of Pentecost also said that Pastor Michael Ofori was known for his love for the things of God and did the work of his Master with alacrity and ensured that tasks assigned to him were done and done well, saying, "He undertook his pastoral duties with diligence which produced impactful results."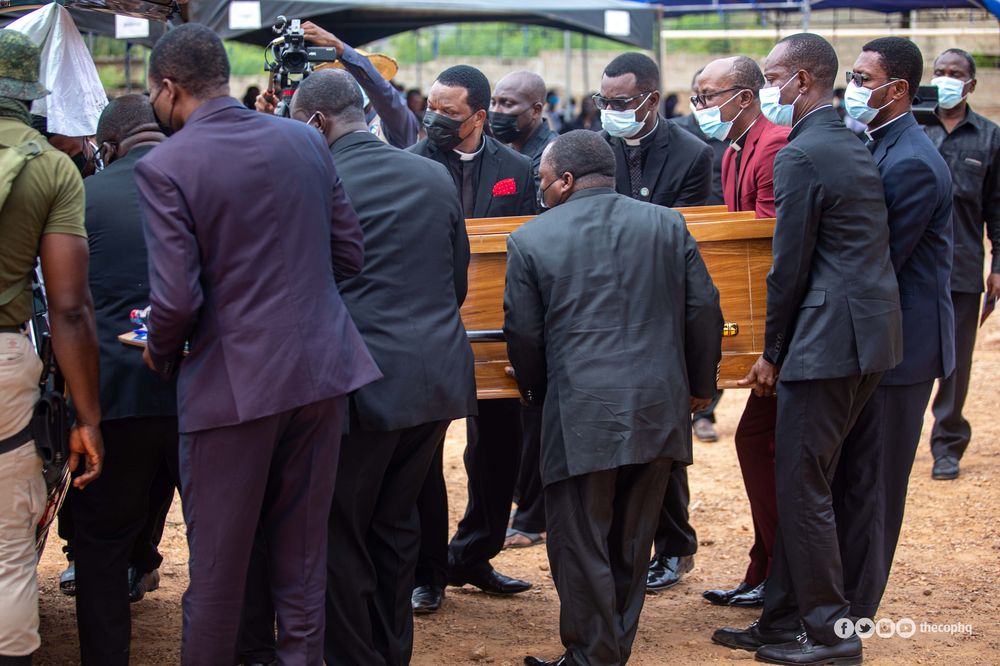 Biography of Pastor Michael Ofori
Born on 4th February 1967 at Koforidua in the Eastern Region to the late Mr. Tawiah Ofori and Madam Paulina Kwao, both natives of Osuwem, in the Shai-Osudoku District in the Greater Accra Region, he began elementary education at Koforidua Presbyterian School and successfully obtained the Middle School Leaving Certificate at Aboma L/A Middle School in 1982. Due to lack of funds, Michael could not continue his education immediately and decided to embark on farming in order to mobilise funds to augment his parents' efforts to enable him further his education.
He later gained admission to Koforidua Technical Institute to pursue Automobile Mechanical Engineering and completed in 1987. He then continued to St. Paul's Technical School, Kukurantumi from 1988 to 1990. From there, he went to Kumasi Polytechnic (now Kumasi Technical University), from 1992 to 1993 and then to Accra Polytechnic (now Accra Technical University), from 1997-2000 with the Higher National Diploma (HND) in Mechanical Engineering (Plant Maintenance and Works Service Option). He also had a B.A. in Theology degree from the Pentecost University. He held several leadership positions in school, including PENSA President and the Students Representative Council (S.R.C.) Representative on the Accra Polytechnic Governing Council from 1998-2000.
Prior to his call into the full-time ministry of The Church of Pentecost in 2004, he worked with the Ghana Education Service as a teacher.
In ministry, he was stationed in the following districts: Badu District (2004-2009), Sowutuom District (2009-2011), P.U.C District (2011-2014), Atonsu-Bokro District (2014-2017), Ayeduase-Boadi District (2019-2020), and Mount Olives Worship Centre, Gbawe (2020-2021).
PENTECOST NEWS.