"Me Kristosom Abrabo Ho Anwensem Aduasa," an Akuapem-Twi Poetry book authored by Pastor Ernest Perbi-Asare (Assakae District Minister of The Church of Pentecost), has been adjudged the "2021 Best Ghanaian Language Book."
Pastor Perbi-Asare won the coveted "Kate Abbam Award" on Thursday, December 16, 2021, during the 5th annual literary awards ceremony organised by the Ghana Association of Writers (GAW).
The GAW Literary Awards is open to original and published works of Ghanaian authors and residents in Ghana (for at least three years). The scheme was instituted to promote Ghanaian literary excellence and celebrate the outstanding efforts made by writers in different categories.
This year, 21 deserving entries were selected by experienced assessors for awards in eight different categories, out of which, Pastor Perbi-Asare's book won the 1st Prize in the Ghanaian Language Special Award category.
Speaking in an interview with PENTECOST NEWS, Pastor Perbi-Asare said the book is a resource material for the Pentecost Literacy Project (PLP), which is under the five-year strategic vision of The Church of Pentecost (Vision 2023). The project aims at helping uneducated and educated members to read and write in their local dialects and, thus, equip them to read the Bible, he added.
He also expressed utmost gratitude to the General Secretary, Apostle A.N.Y. Kumi-Larbi, for taking time off his busy schedules to read through the entire manuscripts, offering helpful suggestions and writing the foreword for the book.
The Assakae District Pastor also thanked the Takoradi Area Head, Apostle Joseph Assabil, and his wife, Rebecca, for their diverse support.
"I dedicate this award to the Chairman, Apostle Eric Nyamekye and the Executive Council for initiating the Pentecost Literacy Project, which is now underway in all areas of the Church. This timely vision would help members of the Church and Ghanaians in general who cannot read or write in their local dialects to do so," he further stated.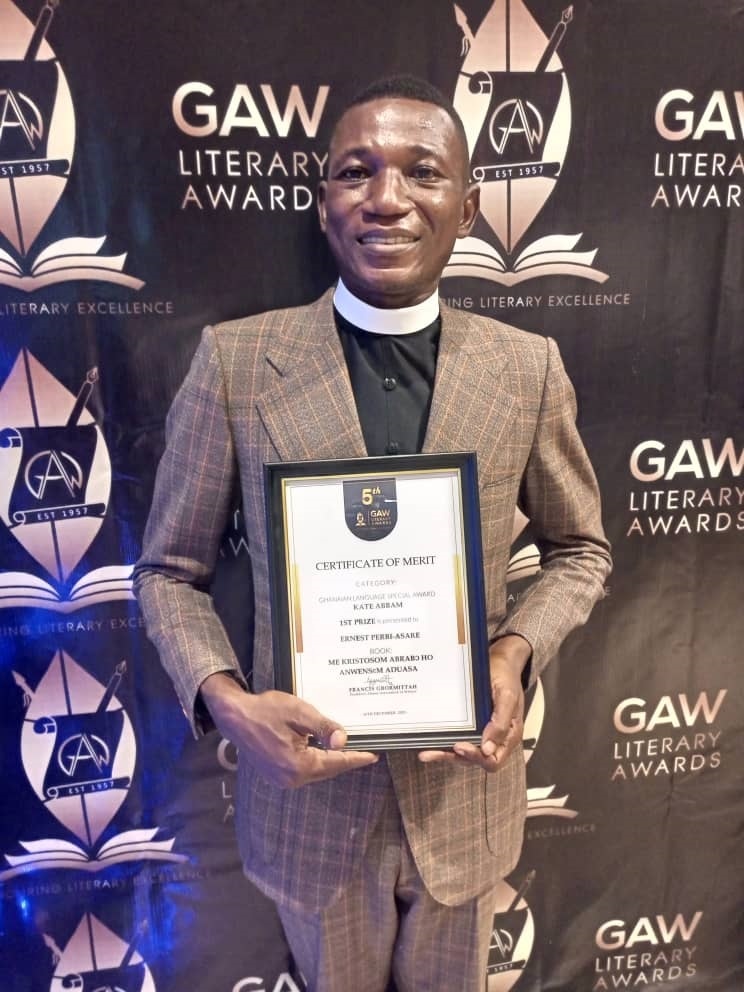 Pastor Perbi-Asare, a former Ghanaian Language (Akuapem Twi) tutor at Kibi Presbyterian College of Education and the Seventh Day Adventist Senior High School at Asokore-Koforidua, is currently one of the Akuapem-Twi translators of the Church. He also doubles as the Takoradi Area PLP Coordinator.
In 2019, his Akuapem-Twi prose titled, 'De Mente?' received the Kate Abbam Ghanaian Language Special Award (3rd Prize) at the 4th GAW Literary Awards.
The event was attended by Mr. Senyo Hosi (Chief Executive Officer, Bulk Oil Distributors), who served as the keynote speaker. Among the dignitaries present at the ceremony were Mr. Kojo Matta (former Managing Director, ARB Apex Bank PLC), Ms. Odolina Roussinov (Media Arts Educator and Author) and Mr. Kwame Dagbandow (Deputy General Secretary, Ghana National Association of Teachers).
Report by Assakae District Media Team.