Overseers Joseph Assumaning Walker of Twifo Kyebi District and Mark Owusu Ansah of Dome Asaman District, both in the Dunkwa Area of The Church of Pentecost, have been ordained Pastors of the church.
The two Overseers were officially called into the pastorate of the church during the virtual General Council Meeting held in June this year.
Members of the church in the Area turned up in their numbers to witness the historic event which took place at Dunkwa Central Assembly church auditorium on Friday, July 24, 2020. It was officiated by the Sefwi Bekwai Area Head, Apostle Vincent Anane Denteh, with assistance from the Dunkwa Area Head, Pastor Jones Afrifa Awuah.
Quoting from Psalm 101:1-7 and giving a short exhortation on the topic: "Rules for Godly Living," Apostle Vincent Anane Denteh appealed with Christians to strive to obey the rules of God in all their endeavours.
According to him, God has His children rules for them to live by as salt of the earth, He said that as they apply these rules, they manifest the character of God.
"The rules of God ought to be known, understood and obeyed," he emphasised.
Apostle Anane Denteh also admonished church leaders especially ministers and their spouses to lead the flocks in accordance with the rules of God.
The first rule of God for Christian leadership, he mentioned, was that every church leader must be a servant. This, he explained, to mean that church leaders must not lord themselves over the people entrusted to their care, instead, they must emulate Christ by serving them.
He also stated that every church leader ought to be humble, stressing that "People who are not humble cannot serve." He, therefore, admonished church leaders to demonstrate the godly character of humility in their service to God and the church.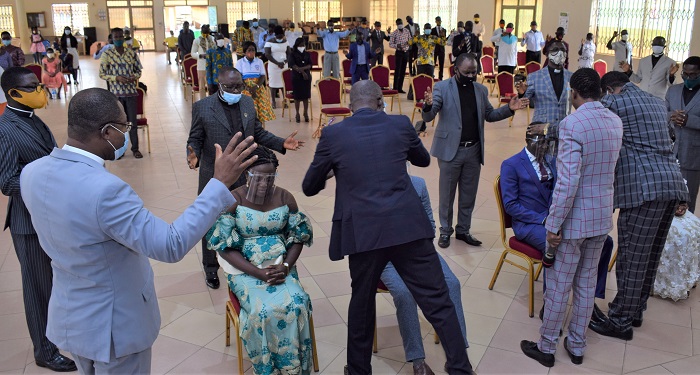 The Sefwi-Bekwai Area Head urged ministers to show genuine care for the flock they are leading. He said Jesus cared for all manner of persons, including the sick, aged, the less privileged, and persons with disabilities (PWDs) in society. Likewise, he urged church leaders to do the same by showing concern for the welfare of their members. "No one can be effective in the work of God without caring for the people he leads," he added.
On the issue of integrity, he advised church leaders to have clear motives that do not contradict the tenets of the Kingdom and despise dishonest gains. "When appointing people to take up a leadership position, we must choose faithful men who have the fear of God and the wisdom of God in them to lead God's people," he added.
Concluding his message, Apostle Anane Denteh charged Christian leaders to demonstrate integrity in all their dealings and be diligent in their service to God and the church.
Report by Pastor Twene Adane, Dunkwa Atechem