The Ho Area Head of The Church of Pentecost, Apostle Dr. Dela Quampah, has paid a courtesy call on the Volta Regional Minister-Designate, Honourable Dr. Archibald Yao Letsa, at his office in Ho, on Monday, February 15, 2021.
The delegation, comprising some Members of the Area Executive Committee, included Pastor Evans Ekow Ampah (Area Secretary), Elder Vincent Ametepe (Area Deacon), and Elder Nicholas Nfodjor.
Apostle Dr. Quampah, a Member of the Executive Council of the Church, expressed his appreciation to the Regional Minister for the warm reception accorded him and his team.
He assured the Regional Minister-designate of the Church's readiness to support and partner government for the progress of the country. He outlined some of the measures that the church has put in place to adhere to the COVID-19 protocols.
He further mentioned the various ministry interventions that the Church has introduced in its quest to possess the nations.
The Area Head also brought to the attention of the Minister some national development concerns and assured the government of the Church's continuous prayer support.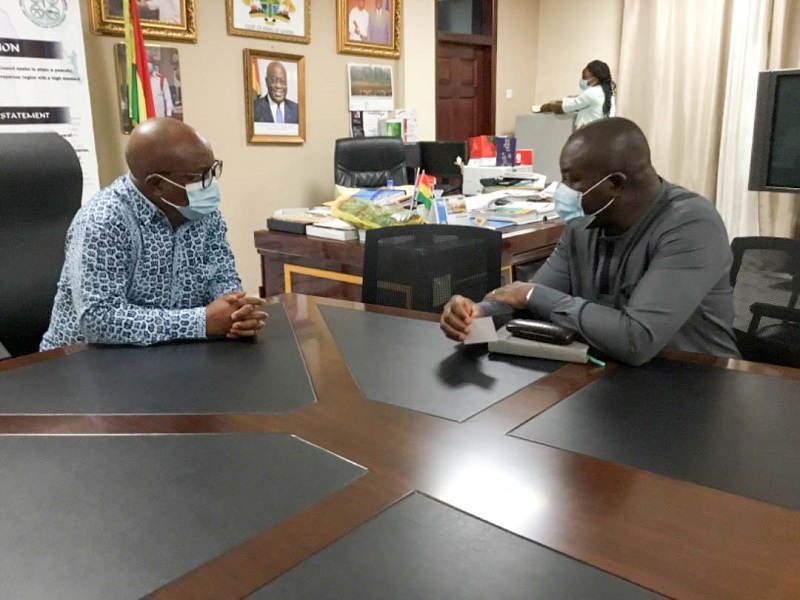 The Regional Minister-designate, Hon. Archibald Letsa, on his part, acknowledged the significant contributions of The Church of Pentecost towards the development of the country. Describing The Church of Pentecost as "a prayerful church," Dr. Letsa was overwhelmed by the exponential growth that the church has experienced over the past few years.
He praised the church for its strong evangelism drive resulting in the planting of many churches especially in the Northern part of the country. He also commended the Church for supporting many national institutions. "I greatly admire the disciplined nature of your members and their modesty in dressing with a high sense of integrity," he said.
The Regional Minister-designate admitted that he has been a close ally of The Church of Pentecost and chronicled his cordial relationship with past Area Heads of the Church in the Ho municipality. He intimidated that his doors are widely open to the Church for future engagements.
Hon. Dr. Archibald Letsa expressed his great admiration for the immediate past Chairman, Apostle Prof. Opoku Onyinah, and recalled the many occasions and platforms he has been privileged to sit with and to receive his ministration.
He requested the leadership of the Church to always remember the region and the nation in prayers.
Apostle Dr. Dela Quampah said a word of prayer for the Regional Minister, the Presidency, and the entire nation.
Report by Overseer Felix Brakatu, Ho Area.