The Church of Pentecost Men's Ministry (PEMEM) in the Ho Area has spearheaded a tree planting exercise at the University of Health and Allied Sciences (UHAS) – Ho Campus.
The exercise, a collaboration with the Forestry Commission, saw the planting of 1,210 seedlings of varieties of trees such as Afram, Mahogany, Acacia, Birhania, Gmylina among others at the university. Meanwhile, 780 seedlings were distributed to the various districts in the Area on Saturday, May 29, 2021.
Speaking at the event, the Ho Area Head, Apostle Dr. Dela Quampah, said that the exercise is in response to The Church of Pentecost's call on all members to green the environment as the adage goes "when the last tree dies, the last man dies."
"We are the custodians of what our Father has created and as good stewards, ecological care should be our priority," he said.
Apostle Dr. Quampah, who is an Executive Council Member, charged members of the church to rise to the task to redeem and reclaim the lost forest.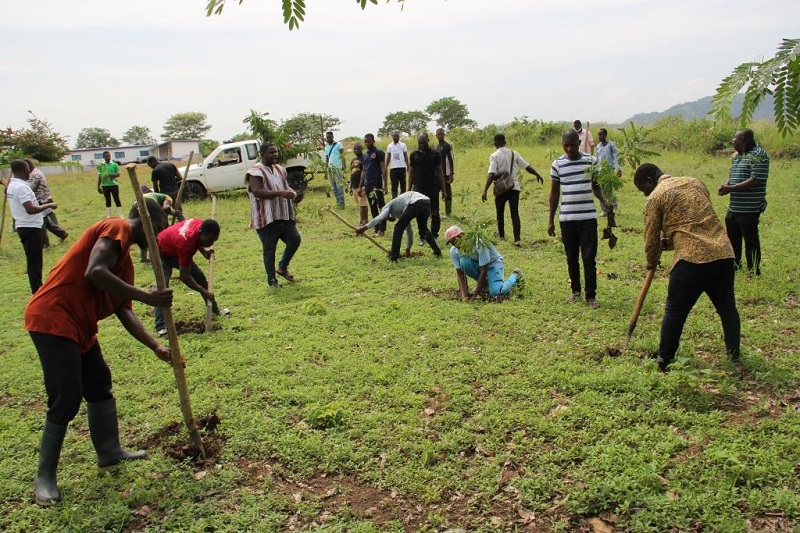 Having enumerated the economic, health, and ecological benefits of trees, he enjoined members to carry on with the exercise at their various local assemblies, homes, communities, and farms to achieve the objectives of the project.
The Area PEMEM Leader, Pastor Michael Arthur, on his part, explained that the exercise will not be a 9-day wonder, but a project the ministry has planned to carry through to see to the nurturing of all the trees to maturity.
The Area Secretary, Pastor Evans Ekow Ampah, outlined the week-by-week strategy adopted by the other ministries to further embark on the same exercise at various locations across the Area.
Seedlings totaling 1,990 were received from the Forestry Commission for the exercise. A total of 110 members were present at the exercise.
Report by Overseer Felix Brakatu.