A forty-five-member delegation of the Children's Ministry of the East Airport District (English Assembly) in the Teshie-Nungua Area of The Church of Pentecost today paid a visit to the Church's Headquarters at La in Accra.
The visit climaxed the ministry's expedition to the Black Star Square (Independence Square) and the Accra Sports Stadium in commemoration of Ghana's 66th-anniversary celebration.
The children, who were led by Deaconess Vivian Darko (Children's Ministry Leader) and two other child workers, Deacon Godwin Boateng and Brother Solomon Konlan, interacted briefly with the General Secretary of the Church, Apostle Alexander Nana Yaw Kumi-Larbi, the Director of the Pentecost Men's Ministry and Executive Council Member, Apostle Vincent Anane Denteh, and the Director of the Counselling Ministry (COPCOM), Apostle Philip Osei Korsah.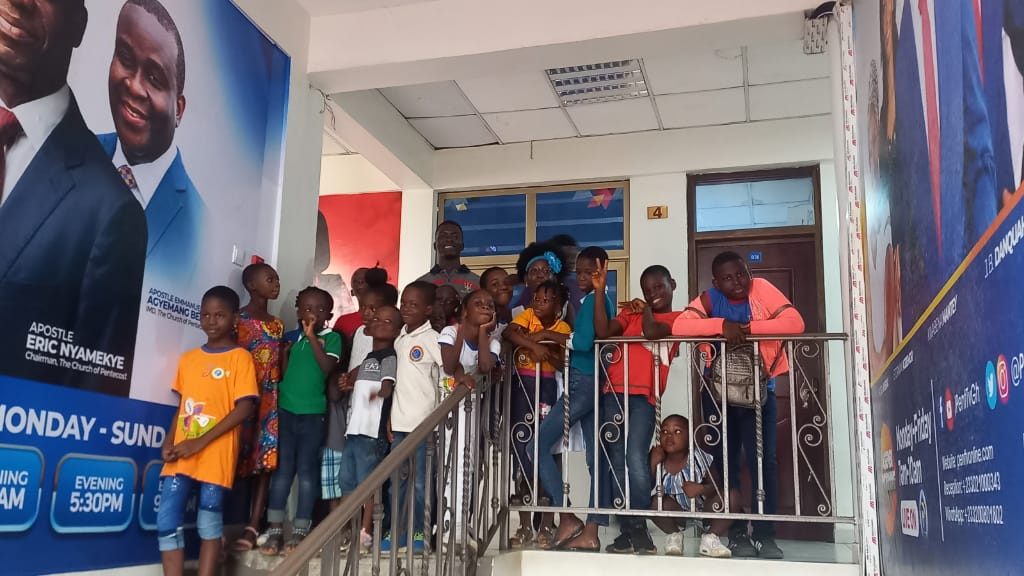 After the interaction, they took a group photograph with the children and prayed for them.
As part of the visit, the children were given a tour around the Headquarters building as well as the studios of Pent TV located on the premises.
They also visited the Sophia McKeown Temple (adjacent to the Headquarters) – touted as the first and oldest church building constructed by The Church of Pentecost in the Greater-Accra region.
PENTECOST NEWS.