The Kete-Krachi Area of The Church of Pentecost has dedicated the Chinderi Central church building and re-named it after the late Pastor Isaac Nakojah.
The service which took place on Sunday, April 11, 2021, was officiated by the Area Head, Pastor Joseph Danzerl. It was attended by ministers of the church, the Chief of Chinderi, family members of the late Pastor Nakojah, and members of the church.
The Chinderi assembly of The Church of Pentecost was started in 1959 by the late Pastor Nakojah after being subjected to several beatings, threats, and insults by his own kinsmen. 62 years down the line, the assembly has developed in leaps and bounds to become a district made up of 11 local assemblies, with a total membership of 1,699 people.
The late Pastor Nakojah was baptised by the late Prophet Thomas Nyarko in 1957 when he travelled to Tepa in the Ashanti Region in 1956 in search of a greener pastures. He returned home two years later with the fire of the Holy Ghost burning in his heart and started the church in Chinderi. Pastor Nakojah was called into the full-time ministry and later baptised the then Brother Michael Kwabena Ntumy who later became the Chairman of the church.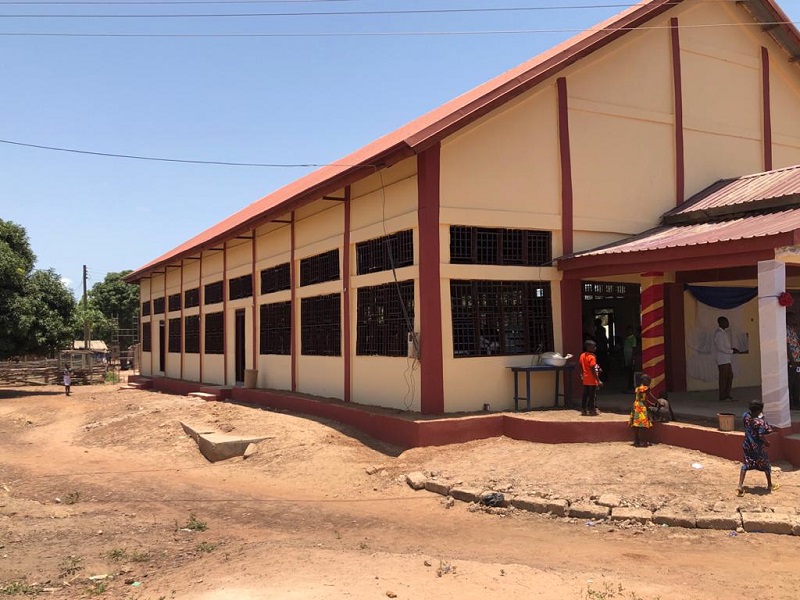 Speaking at the service on the topic, "That there may be glory in the Church" based on Ephesians 3:14-16 and 2 Chronicles 6:1-4; 7:1-2, Pastor Emmanuel Kenin of Krachikrom District observed that "the world's opinion concerning us [Christians] will depend to a large extent on how far God's glory is seen in the Church."
According to him, the Church is the reflection and full expression of the glory of God. Quoting Apostle Eric Nyamekye, Chairman of the church, Pastor Emmanuel Kenin stated that, "God's glory is not just a theoretical concept to be learned; it is a heavenly reality that should be continuously experienced in the Church."
The Chief of Chinderi, Nana Abraham Okogye, who is also the Ankobeahene of the Nchumuru Traditional Area, was full of praise for The Church of Pentecost for playing a pivotal role in the development and transformation of the Chinderi community over the years. He added that he would have joined The Church of Pentecost if he were not a member of the Catholic Church.
He made a passionate appeal to the leadership of the church to continue to encourage the members to discard the notion that the chieftaincy institution is anti-Christian.
The Area Head prayed for the chiefs and people of Chinderi as well the family members of the late Pastor Isaac Nakojah.
Report by Pastor Emmanuel Kenin, Area Media Ministry Pastor.