The Pentecost Students and Associates (PENSA) of Kwadaso Sector, under the leadership of Pastor Isaac Donkoh, PENSA Travelling Secretary, organized a maiden Pre-Tertiary Sector Quiz competition for Senior High Schools within the sector on Saturday, March 25, 2023.
The quiz competition covered Nehemiah, Colossians, Current Affairs/Church History, and Rules of Conduct of The Church of Pentecost.
The competition started at the institutional level, followed by the zonal level, and then the grand finale.
Two students who emerged as winners from their schools progressed through the levels to the grand finale. Three institutions from each zone that qualified at the zonal level were engaged in a fierce battle at the grand finale.
Competing schools at the grand finale included Obuasi Secondary Technical School, New Edubease Senior High School, Osei Tutu Senior High School, Akrofuom Senior High School, Opoku Ware Senior High School, and Yaa Asantewaa Girls Senior High School, the event host.
After a fierce competition between the six competing schools, Yaa Asantewaa Girls SHS, took the first position, followed by Opoku Ware, while Osei Tutu took the third place.
For their prize, the winning school took the trophy with a cash amount of Ghc1,000.00, certificates, Bibles, and other prizes, followed by first runner-up with Ghc750.00, certificates, and other prizes, and the second runner-up with Ghc500.00, certificates, and other consolation prizes.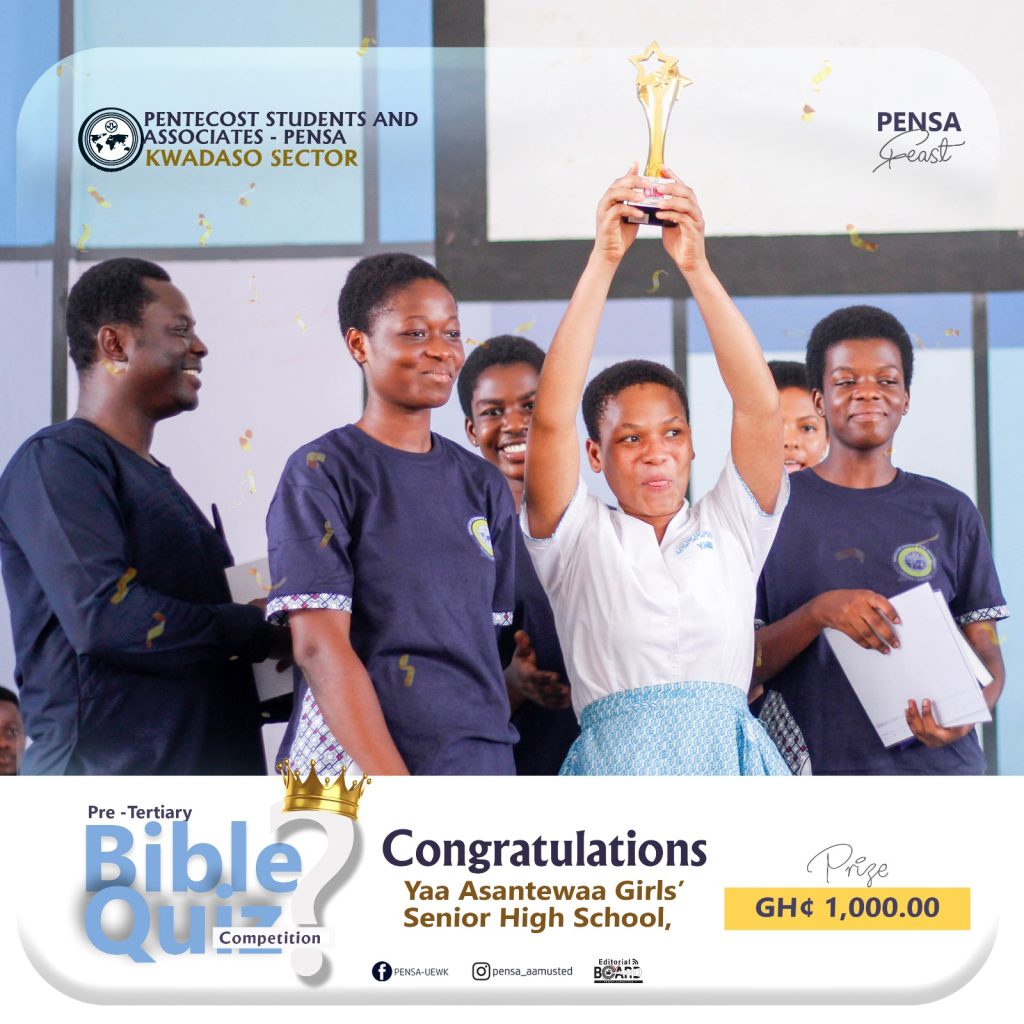 Elder Dr. Solomon Obiri Yeboah, a surgeon at Komfo Anokye Teaching Hospital, and an Elder from PIWC-Bompata solely sponsored the quiz competition.
In a brief remark at the event, he admonished the students to fear God, be diligent in their studies, and commit their ways unto Him, who is able to direct their course into excellence.
The competition aimed at engaging more young people to study the word of God and have it written on the tablets of their hearts.
Report by Mrs. Doris Donkoh