The Resident Minister of Pentecost International Worship Centre (PIWC) in Koforidua, the Eastern Regional capital, Pastor Musa Yahaya, together with his wife Rejoice, 2-year-old son, and Pastor Michael Fiifi Bortsie, the Koforidua Sector Pentecost Students and Associates (PENSA) Traveling Secretary, were miraculously saved from a near-fatal road accident on Wednesday, September 29, 2021.
They were aboard a Toyota RAV4 vehicle returning to Koforidua in the afternoon after attending a naming ceremony of a colleague pastor at Kwamoso, near Koforidua.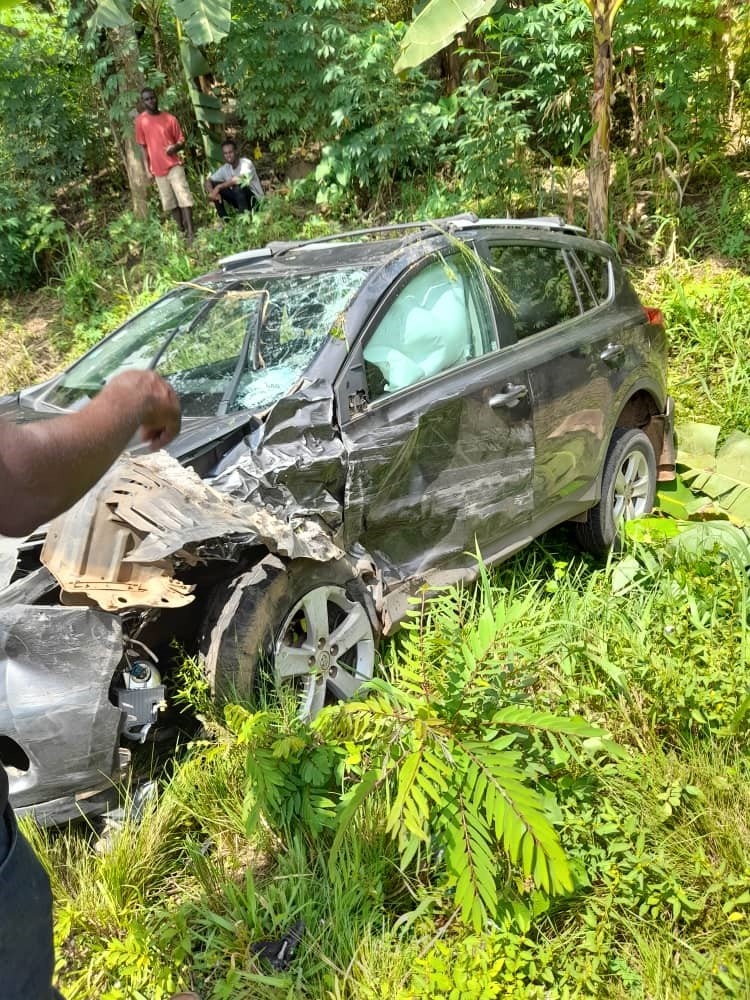 Pastor Yahaya, who doubles as the Koforidua Area Secretary of the church, narrated to PENTECOST NEWS at the Eastern Regional Hospital that, while descending towards Osubetor stretch of Koforidua-Mamfe Highway, he noticed that an oncoming Nissan Pick-Up vehicle with registration number GR 1933-19 had veered off its lane with a broken shaft after hitting a pothole.
He said he attempted to slow down and swerve to the shoulders of the road on a bridge. "However, the driver of the Pick-Up vehicle lost control of his vehicle and violently rammed into the driver's side of my car," he explained.
According to him, the impact forced his vehicle to somersault four times and landed in the process with the tyres hanging upside down.
By the mercies and grace of God, he together with his wife, baby boy, and the colleague pastor escaped with minor injuries and were rushed to the regional hospital, where they were treated and discharged. However, the two-year-old baby miraculously survived unhurt.
"The Lord has been gracious to us. Praise Him with us," Pastor Yahaya said.
PENTECOST NEWS/KOFORIDUA AREA MEDIA TEAM.