Pastor Reynolds Lartey, the Pokrom District Minister of The Church of Pentecost in the Nsawam Area, together with his two sons and a Cinema van driver of the church, were saved from a gory accident that happened at Kwame Ntow, near Nsawam in the Eastern Region of Ghana.
The accident occurred around 9:00 pm on March 25, 2022, while they were returning to Pokrom from a Children's Ministry outreach at Kwame Ntow, which produced eight souls for Christ.
Narrating what happened, Pastor Lartey noted that the cinema van on its way to Pokrom, had a brake failure while descending the mountain leading to the Kwame Ntow township.
He said that in an attempt to swerve from crashing into an oncoming vehicle, the driver, Elder William Antioku, veered off the road and run into a nearby building in the town. The vehicle then bounced back to the road and somersaulted three times and landed on its side in the process.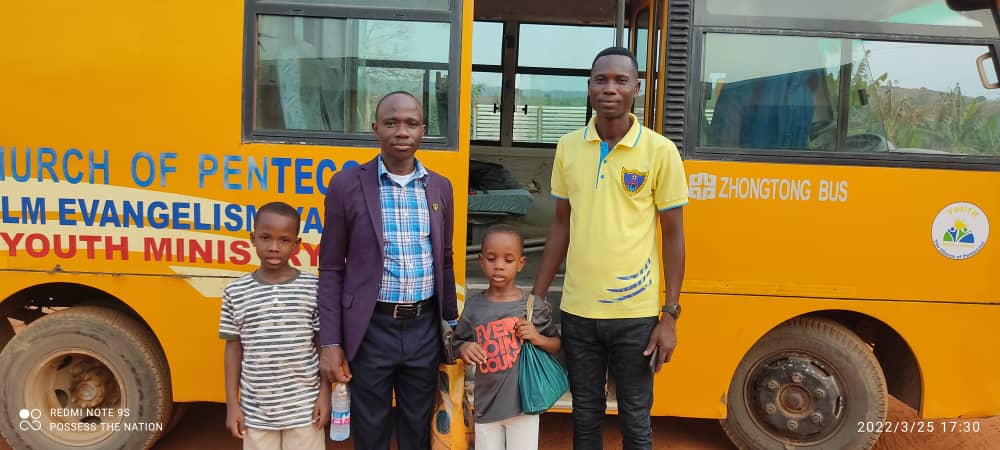 Pastor Lartey indicated that he landed in a deep gutter and sustained a fracture in the left arm above the elbow, while his five-year-old son , Hayford Lartey, was tossed over a gutter and had his back head hit against the ground with deep cuts on his back head, shoulders and legs. The cinema van driver had a fracture in both his left ankle bone and right arm.
Speaking to PENTECOST NEWS in an interview, he revealed that his 7-year-old son, Joseph Lartey, was however miraculously saved from the crash unhurt but slightly bruised on his left temple.
"My son told me that an angel of God asked him to pass through the window of the crashed van," he stated.
All four passengers of the van were rushed to the Nsawam General Hospital for immediate treatment, but Hayford was discharged the same day. The driver and Pastor Lartey were later transferred to Graceville Hospital at Nsawam for further treatment.
As of the time of filing this report, they were discharged from the hospital. The driver was however transferred to Korle Bu Teaching Hospital for further treatment.
"We give glory to God for His deliverance and saving grace," he said.
Pastor Lartey thanked the Chairman, Apostle Eric Nyamekye; the General Secretary, Apostle Alexander Nana Yaw Kumi-Larbi; the Nsawam Area Head, Apostle Francis Yaw Adu, and the Evangelism Director, Apostle Dr. Amos Jimmy Markin, and others for their care and support.
PENTECOST NEWS.