The Tarkwa Area Head of The Church of Pentecost, Apostle Dr. Daniel Okyere Walker, has paid a working visit to the Pentecost Hospital-Tarkwa, to familiarise himself with the operations at the facility.
Apostle Dr Walker, an Executive Council Member and Coordinator of the Western and Western North Regional Coordinating Committee of the Church, was at the facility on March 4, 2021. He was joined by Pastor Charles Owusu Mpiani, District Minister for Adieyie, who also doubles as the Area Media Pastor.
He was welcomed to the facility by the General Manager, Pastor Dr. Suleman De-Graft Issaka, and Elder Isaac Ofori Adom, Head of Finance.
Apostle Dr. Walker was taken round the facility where he interacted with the staff.
Addressing a section of the staff, the Area Head urged them to uphold the vision and mission of the church and the hospital. He further entreated them to continue to hold clients who patronise the facility in high esteem.
He ended by encouraging the staff to work as a team, saying, "If you travel alone, you will go fast but if you travel together, you will go far." He assured the staff of the church's unwavering support to the hospital to become a preferable facility in the area.
As part of the visit, Apostle Dr. Walker donated two nebulizers to the hospital.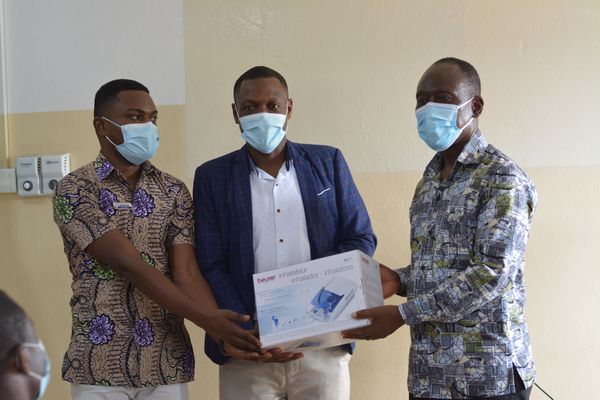 The General Manager, Pastor Dr. Suleman De-Graft Issaka,thanked the Area Head for the visit. He assured him that the nebulizers will be used for the intended purpose.
Pastor Dr. De-Graft Issaka disclosed that in 2020, the Head Office of the Church gave the facility GHS 250,000.00 to complete a disability-friendly ramp and a link at the hospital.
He added that the hospital received financial support from the Tarkwa Area for the construction of a new Outpatient Department (OPD). According to him, a good amount of money was also donated by Ardent Fire Protection Limited, a company belonging to Elder John Arthur, the Tarkwa Area Deacon, to the facility.
The General Manager expressed appreciation to the Chairman of the Church, Apostle Eric Nyamekye, the Executive Council, the PENTSOS Directorate and members of the Church for their support to the hospital.
Pentecost Hospital-Tarkwa started as a mobile clinic in 1984. It became a static clinic in 2005. It has 141 permanent staff and 21 temporary staff. The Hospital has been fully accredited by both the Health Facilities Regulatory Agency (HeFRA) and the National Health Insurance Authority (NHIA) as a Primary Hospital.
Report by Sandra Walker & Deloris Jennifer Annan.